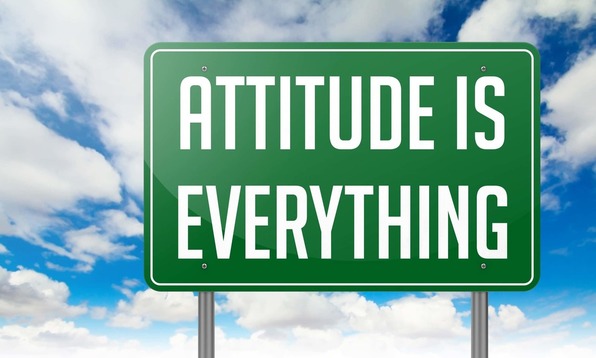 Having the right attitude is everything!
We see all kinds of clients in our office. Some with minor aches and pain, stiff necks, sore low back but we also see clients with major problems and different issues like severe migraines, car accidents, fibromyalgia and other major illnesses. One thing that really hit me these past few weeks are their Attitude and to see the different attitude in our clients are really amazing. I was talking to one of my clients in her mid 80's and she told me she read an article about what you need to do to live a long life and she said "I don't do any of the things they had listed in that article" and my response was that her attitude is always great. She said it has to be, having the right Attitude is key, if you didn't have that…well, you loose.
I'm so amazed how the right attitude makes such a huge difference in how they heal and their willingness to do whatever it takes to get better. I know that we all get down sometimes but with the right attitude we can pull ourselves back up again.
What is the right attitude?
Attitude can be both good or bad so to keep your attitude up, what do you need to do?
To start with is to Stop the negative self-talk we do all the time. We all do it some more then others. As soon as you notice your negativity, ask yourselves 'is this helping or hurting me'. Would you say these things to your best friend? We all have a responsibility to make the best of every situation, good or bad and the best way to do that is to always keep a Positive Attitude.
Our Services
Wellness Services
Acupuncture
Coaching
Pricing
30 Minutes

$40

60 Minutes

$70

90 Minutes

$110
Packages
Includes eight 60 minute sessions

Includes eight 90 minute sessions
Acupuncture Pricing
90 minute session

60 minute session

No Acupuncture Packages.
Ready to Book an Appointment?
Call, Click, or Tap Today!
Give Us a Call:
941-833-3344
Schedule Online:*

Book Online
Download the App:*

*Appointments booked online or through the app must be made at least 24 hours in advance. If you need to see us sooner, please call our office.
I am addicted! My weekly massage has kept me strong and stress free for years. Try it, you'll like it!

Dixie Garrard
More Reviews